Who is Miss Sapphire?
Families grow up, no doubt. Children one day, Adults the next. Our Family at Dream & Drive is a bit the same. From our original family, we have one sister left, Miss Sapphire. She arrived with us nearly 4 years ago & promptly set herself at the head of the family table. There was quite a power struggle in the first years, but she sat firm & as her other sisters left home she remained. Today, she shares table with Tank. As you might have read, Tank has without doubt become 'daddy', but Miss Sapphire is never the less stuborn & still ocupies the same chair today.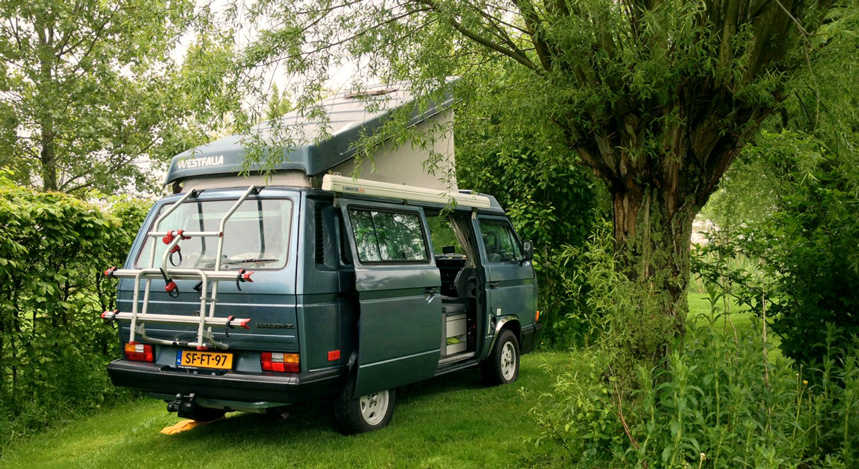 Some history about Miss Sapphire
Miss Sapphire comes from the last generation of T3's. From this family group, she was pretty well the last, with a larger petrol engine (the then 2.1i WBX), rather sharper interior (so wood veneer gave way to steel grey laquer) & everything was tightened up a bit. Last year, we gave Miss Sapphire our brand new 2.5i WBX engine & a brand new Royal Gearbox. This instantly took her out of the late 80's & straight into the 2015's. How? Much more power, good economy (relative) & a super set of very long legs. (the gearbox). She will cruise all day at 125kmh without any problem, so for our modern roads, this classic is extremely happy with the modern flow. At the same time the brakes were much upgraded, many other items revised or updated (lights for example), so she's great for the long haul work that sometimes is demanded of her. Of course, she is still a T3, so enjoys the country lanes, the country side & a very zen way of travel too. She's a genuine & proper Westfalia Pop Top. Lastly at this point, Miss Sapphire is my personal CamperVan which I love for all my adventures (of which there are still many!).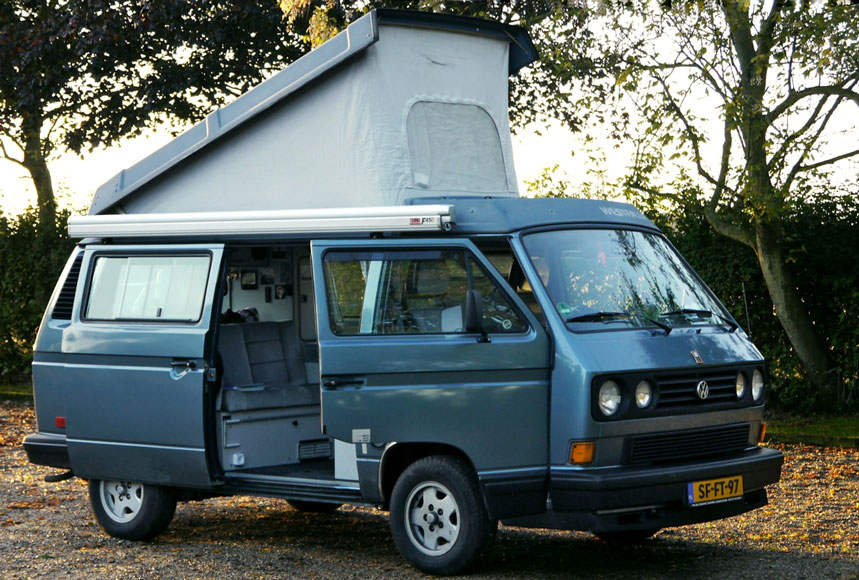 Looking forward a bit
No doubt Miss Sapphire will remain my personal campervan. Only two weeks ago, she was my hotel in Berlin for a few nights having driven all the way from Amsterdam & back of course. Perfect. She's in need of some paintwork, I scratched her last year in France & of course, the pesky rust is always somewhere poking it's head out, nothing to be done about that problem. She is also our show model regarding the superg 2.5wbx engine so she also works for her living. So for sure, she, along with Tank form the backbone fleet of Dream & Drive.
You would like to rent Miss Sapphire for an adventure?
Probably for those people who are planning long trips over longer periods. Then, this is an excellent Classic Camper to enjoy. For sure she has all the necessary equipment for an independant plan. Strong Engine, Long Gearbox, Cruise Control & a fair amount of other bits to make a relaxed journey. And not forgetting she is a full Westfalia model too. What more would you need?, ideas maybe. Other bits that are nice is an awing, bike rack, central heating & every item you could need. So, not much packing is required, maybe a jacket & a good pair of walking shoes.
OK, you can dream & drive, the options are open, just contact us.
Mark