Who is Tank?
Naming this child was extremely difficult…..
Why? Because a name has to fit & we tried all sorts of names, but in the end, my love said 'Tank'.
The name stuck. Tank she is.
Tank is a 1990 VWT3 2.5WBX Syncro currently wearing clothes pointing to a Westfalia Weekend Conversion, made-over when she was new.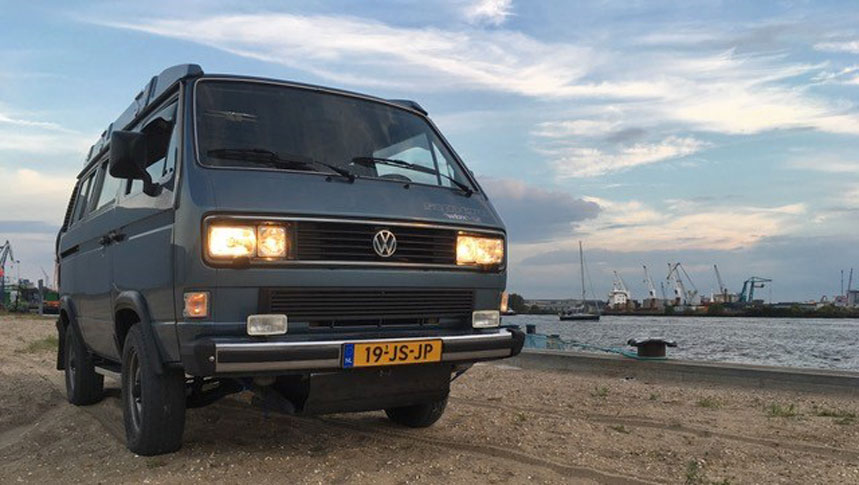 She's wears the makeup of a smart blue dress, loads of bling (chrome) & all the accessories any self respecting princess would wear. In her handbag we found the following; power steering, heated seats, 2 x large double beds, tinted glass, electric everything, a music system to die for, too many lights, cruise control, a 2.5 hand build wbx engine, 16" wheels, ABS, Electronic LPG & far far more.
Not only that, she is 4 wheel drive with three sets of locking diffs too (absolutely no idea why she needs such high heals). Yes, a very big handbag…. thus the name Tank.
As glamorous & smart as she is, interestingly, she will go just about anywhere…, so from Lapland to Dakar, no problem. Whether she would agree to go, I doubt it.
Some history about Tank
I came across Tank last year & immediately we started a difficult relashionship. Due to a whole lot of circumstances, I have her a new home, Dream & Drive.
She's fabulous, there is no dobt about that, but my question still is 'what do you want dear'. As yet, she hasn't made up her mind. The 'boys' who are her direct brothers are all far more macho, but actually, Tank does exactly the same as they do. But she thinks (or maybe it's true) that she has class & is definately 'above' her brothers. You won't find her playing in the mud, no way, she's off to the theartre & if the road is broken, she'll pull up her skirts & go cross country! No problem.
She's also a bit arrogant & is frequently having fights with Miss Sapphire, her elder Westfalia sister. (you can read about her somewhere here for sure)
Looking forward a bit
Over the past months, she has been getting some much needed maintenance (old age is with all our T3 family) but her final destination or style is yet to be sorted out. Her recent appearance on TV (something to do with a VW advert) has again put her future styling into question. Now she wants to be a film star, but I am not convinced.
In all this rather nice story Tank has met a rather handsome Lebanese architect. He seems to have quite a reputation for building 'large' and now he is set the challenge of designing 'small', a super updated interpretation of an 'Office that can be anwhere, anytime, anyhow'.
We wait to see what transpires from all of this.
What to do?
I have absolutely no idea, but I can say this. I love driving her! She's got very high heals & for me, she drives like a Jaguar, seriously. Smooth, quiet, strong, be it on the highway or playing sand castles on the beach.
Nothing seems to phase her. So, we'll just have to wait and see.
Renting Tank?
If you come up with a good enough creative idea, yes, she can be rented, please contact us.
So, for the moment she remains as pictured here.