Who is Tonka?
It had to happen, I mean, we've had 8 Children in our T3 Family, all different, all individual, but kind of the same, they were recognisable. We were honest good parents. And then, one day, something really strange happened. You see, we were planning another child & just as it was all happening, out came Tonka!
Oh my goodness, with shocks running on all corners, there he/she was....
Not our waited for T3, no, no, no, a Golf Country Syncro. The looks of accusation & amazement ran silenty through the corridors of Dream & Drive. What the ****!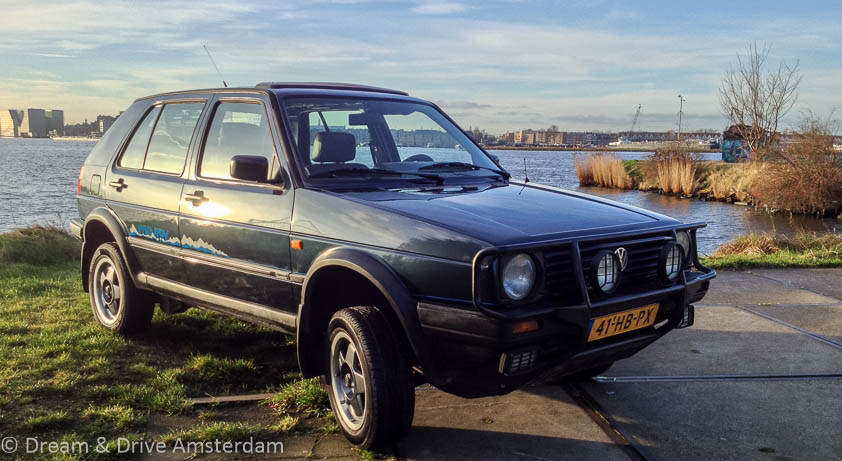 How did this happen?
We were out one day travelling to the far east of the Netherlands in order to find our 9th new child, but what happened indeed shocked us all. Instead of finding another sweet sister, we were presented with Tonka by complete surprise. A poor little creature, with 3 legs, little hair & a very sad story indeed. Our hearts went out, we missed the T3 completely & instead, came home with a totally different child. Tonka was born.
Who and What is Tonka?
That's a very good question. He/She (I'll explain that in a moment) is a VW Golf Mark 2, originally build in 1990, 4 x 4 Syncro. With her heart in Germany, her chassis & the running gear had roots in Austria. Tonka is an almost unique little brick-like creature. I'd never seen a Golf looking like that! Quite how it ended up like this was a mystery, but it was love at first sight.
Once we got Tonka back home, we went about sorting him/her all out. Firstly, we tried to sex him/her. Was it a girl (as are all the T3's/Golfs), was it a boy? Which is unusual for a car.
As it turned out, Tonka had had an identity issue to start with. You see, it's a she, but she thinks she is a he, so we were and are still totally confused. Finally we decided to turn her into a boy, despite being a girl & he got his name, Tonka. Yes, complicated.
Standing as tall as he can
This all happened over a year ago & he caused a big stur in the family. But he was very strong against his big sisters, even the big Syncro's didn't phase him at all. Where they went, he could go too. In our family photo's, Tonka is there, standing as tall as he can, but there all the same.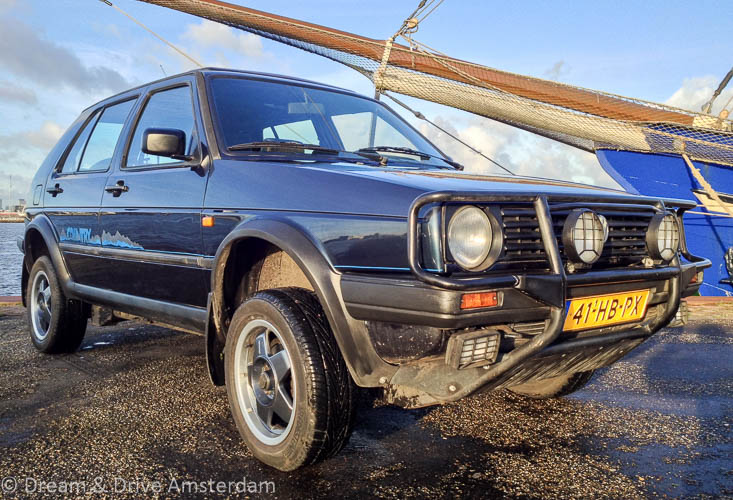 Over the following months, we had to do a lot of detail work. He came without much hair and it took 9 months to sort that problem out. The inside roof lining (with factory sun roof) was missing. Finally that was resolved with a brand new hand made roof, based on the original VW item & we put a new sunroof system in him too. We had to sort out his brakes, put all sorts of missing parts back & I can say as a pround mother, a year of so later, he's back to original. He's still running on his original engine & gearbox, but he has a bad habbit of smoking & crunching gears now & then.But never the less, he's doing fine now & loving his new family.
And the future for Tonka?
He seems very settled with the rest of our family. He's a very happy little chap, runs around every day doing all the ground work for us at Dream & Drive. Of course, he's very populare with the family too. I imagine he will stay around, but you never know, if he falls in love, boys will be boys, even when they are really girls.
Oh, what to do hey?